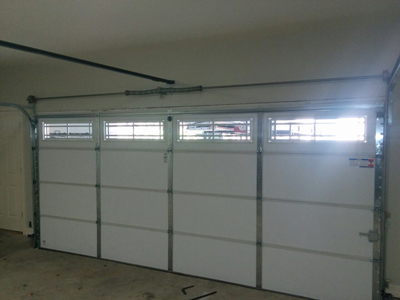 Overhead garage doors move upwards and downwards using the rollers as their feet and the tracks as the road. Most of them are activated by electric operators and their springs are the most important parts since they lift the door with the assistance of the cables. If any of these parts is damaged, broken or simply misaligned, the movement of the door won't be completed. It will either fail to open or close all the way, compromising the security of homeowners. It might also become a safety hazard since overhead doors might collapse if the springs suddenly break or the opener sensors do not work.
Give our garage door emergency services a call and we won't disappoint!
Small problems with the parts are fixed with overhead garage door repair. Bent or misaligned tracks, loose cables and disconnected sensors are all fixed with repair services. These are all everyday problems due to the constant movement of the door. Garage systems are affected by the weather and behave better with frequent maintenance. So, the condition of garage door parts will depend on these parameters. Components have a limited lifespan and they will wear naturally or get damaged by everyday use. Such problems require immediate repairs.